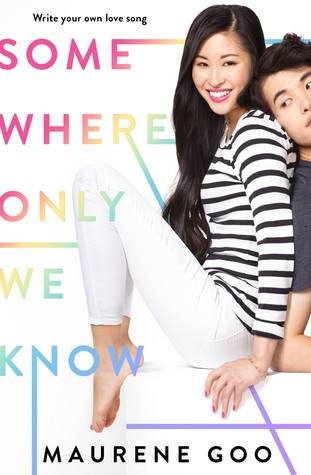 Somewhere Only We Know by Maureen Goo
Synopsis | 10 00 p.m.: Lucky is the biggest K-pop star on the scene, and she's just performed her hit song "Heartbeat" in Hong Kong to thousands of adoring fans. She's about to debut on The Tonight Show in America, hopefully a breakout performance for her career. But right now? She's in her fancy hotel, trying to fall asleep but dying for a hamburger.
11 00 p.m.: Jack is sneaking into a fancy hotel, on assignment for his tabloid job that he keeps secret from his parents. On his way out of the hotel, he runs into a girl wearing slippers, a girl who is single-mindedly determined to find a hamburger. She looks kind of familiar. She's very cute. He's maybe curious.
12:00 a.m.: Nothing will ever be the same.

We Hunt the Flame by Hafsah Faizal
Synopsis| People lived because she killed.
People died because he lived.
Zafira is the Hunter, disguising herself as a man when she braves the cursed forest of the Arz to feed her people. Nasir is the Prince of Death, assassinating those foolish enough to defy his autocratic father, the king. If Zafira was exposed as a girl, all of her achievements would be rejected; if Nasir displayed his compassion, his father would punish him in the most brutal of ways. Both are legends in the kingdom of Arawiya—but neither wants to be.
War is brewing, and the Arz sweeps closer with each passing day, engulfing the land in shadow. When Zafira embarks on a quest to uncover a lost artifact that can restore magic to her suffering world and stop the Arz, Nasir is sent by the king on a similar mission: retrieve the artifact and kill the Hunter. But an ancient evil stirs as their journey unfolds—and the prize they seek may pose a threat greater than either can imagine.
Review | Alright fam, if you've been following me for a while then you know by now that We Hunt the Flame was my most anticipated debut of the year. When Netgalley had an eARC of it to request I was so grateful to get approved! I loved this book. It was beautifully written and there's a bit of a "found family" trope that permeated the storyline. Due to the descriptive writing style, it did seem like it took a while to get started and certain plot points could have been expanded on. But this is definitely a first book in a series and it shows. This book was definitely the "let's get through the set up so we can really get the party started" part of the series and I honestly cannot wait for the next book!
I Wanna Be Where You Are by Kristina Forest
Synopsis | When Chloe Pierce's mom forbids her to apply for a spot at the dance conservatory of her dreams, she devises a secret plan to drive two hundred miles to the nearest audition. But Chloe hits her first speed bump when her annoying neighbor Eli insists upon hitching a ride, threatening to tell Chloe's mom if she leaves him and his smelly dog, Geezer, behind. So now Chloe's chasing her ballet dreams down the east coast―two unwanted (but kinda cute) passengers in her car, butterflies in her stomach, and a really dope playlist on repeat.
Review | I have a love/hate relationships with YA contemporaries. I REALLY have a love/hate relationship with SUMMER YA contemporaries. So, I honestly wasn't sure how I was going to feel about this one. But you guys, I Wanna Be Where You Are is the sweetest, most heart-warming, gimme-a-bowl-of-sugar-and-a-spoon read of the summer. I honestly couldn't put it down once I got started. There is snark, old friends, friends turned enemies turned maybe more?, a stinky old puppy, and confrontation of kids wanting to pursue their dreams even though their parents may not want that from them. It was just so cute and apologetically Black and I can't wait to read more of Kristina Forest's stories of "happy Black girls falling in love".
-This was a quote taken from Kristina Forest at the author panel
The Kingdom by Jess Rothenberg
Synopsis | Welcome to the Kingdom… where 'Happily Ever After' isn't just a promise, but a rule. 
Glimmering like a jewel behind its gateway, The Kingdom is an immersive fantasy theme park where guests soar on virtual dragons, castles loom like giants, and bioengineered species–formerly extinct–roam free.
Ana is one of seven Fantasists, beautiful "princesses" engineered to make dreams come true. When she meets park employee Owen, Ana begins to experience emotions beyond her programming including, for the first time… love.
But the fairytale becomes a nightmare when Ana is accused of murdering Owen, igniting the trial of the century. Through courtroom testimony, interviews, and Ana's memories of Owen, emerges a tale of love, lies, and cruelty–and what it truly means to be human.
Thoughts | So, I'm a terrible book blogger. I didn't actually read this one. But after listening to Jess talk about it, I really really want to! From her description, I'm getting a Marissa Meyer's The Little Android vibe with a bit of true crime mixed in and I cannot wait to get my hands on it eventually.