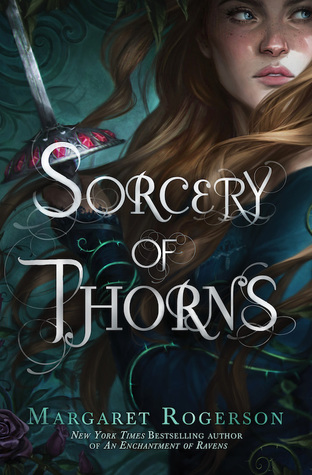 Sorcery of Thorns by Margaret Rogerson (June 4th)
All sorcerers are evil. Elisabeth has known that as long as she has known anything. Raised as a foundling in one of Austermeer's Great Libraries, Elisabeth has grown up among the tools of sorcery—magical grimoires that whisper on shelves and rattle beneath iron chains. If provoked, they transform into grotesque monsters of ink and leather. She hopes to become a warden, charged with protecting the kingdom from their power.
Then an act of sabotage releases the library's most dangerous grimoire. Elisabeth's desperate intervention implicates her in the crime, and she is torn from her home to face justice in the capital. With no one to turn to but her sworn enemy, the sorcerer Nathaniel Thorn, and his mysterious demonic servant, she finds herself entangled in a centuries-old conspiracy. Not only could the Great Libraries go up in flames, but the world along with them.
As her alliance with Nathaniel grows stronger, Elisabeth starts to question everything she's been taught—about sorcerers, about the libraries she loves, even about herself. For Elisabeth has a power she has never guessed, and a future she could never have imagined.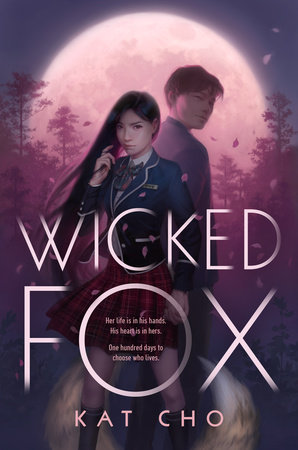 Wicked Fox by Kat Cho (June 25)
Eighteen-year-old Gu Miyoung has a secret–she's a gumiho, a nine-tailed fox who must devour the energy of men in order to survive. Because so few believe in the old tales anymore, and with so many evil men no one will miss, the modern city of Seoul is the perfect place to hide and hunt.
But after feeding one full moon, Miyoung crosses paths with Jihoon, a human boy, being attacked by a goblin deep in the forest. Against her better judgment, she violates the rules of survival to rescue the boy, losing her fox bead–her gumiho soul–in the process.
Jihoon knows Miyoung is more than just a beautiful girl–he saw her nine tails the night she saved his life. His grandmother used to tell him stories of the gumiho, of their power and the danger they pose to humans. He's drawn to her anyway.
With murderous forces lurking in the background, Miyoung and Jihoon develop a tenuous friendship that blossoms into something more. But when a young shaman tries to reunite Miyoung with her bead, the consequences are disastrous . . . forcing Miyoung to choose between her immortal life and Jihoon's
Merciful Crow by Margaret Owen (July 30)
A future chieftain
Fie abides by one rule: look after your own. Her Crow caste of undertakers and mercy-killers takes more abuse than coin, but when they're called to collect royal dead, she's hoping they'll find the payout of a lifetime.
A fugitive prince
When Crown Prince Jasimir turns out to have faked his death, Fie's ready to cut her losses—and perhaps his throat. But he offers a wager that she can't refuse: protect him from a ruthless queen, and he'll protect the Crows when he reigns.
A too-cunning bodyguard
Hawk warrior Tavin has always put Jas's life before his, magically assuming the prince's appearance and shadowing his every step. But what happens when Tavin begins to want something to call his own?
#murderfunding by Gretchen McNeil (August 6)
WELCOME TO WHO WANTS TO BE A PANIAC?, the latest reality TV show on the hunt for the next big-hit serial killer. But don't worry—no one is actually going to murder anyone, as real as the fake gore and pretend murder may appear . . . uh, right?
Seventeen-year-old Becca Martinello is about to find out. When her perfectly normal soccer mom dies in a car crash, a strange girl named Stef appears to let Becca know that her deceased mom was none other than one of Alcatraz 2.0's most popular serial killers—Molly Mauler. Soon, Becca ends up on Who Wants to Be a Painiac? to learn the truth about her mom's connection to Molly Mauler, but things turn sinister when people are murdered IRL. Will Becca uncover dark secrets and make it out of the deadly reality show alive? Or will she get cut?
Vow of Thieves by Mary E. Pearson (August 6)
Kazi and Jase have survived, stronger and more in love than ever. Their new life now lies before them―the Ballengers will be outlaws no longer, Tor's Watch will be a kingdom, and the two of them will meet all challenges side by side, together at last.
But an ominous warning mars their journey back, and in their rush to return to Tor's Watch, just outside the fortress walls, they are violently attacked and torn apart―and each is thrust into their own new hell.
Unsure whether the other is alive or dead, Kazi and Jase must keep their wits among their greatest enemies and unlikeliest allies. And all the while, Death watches and waits.