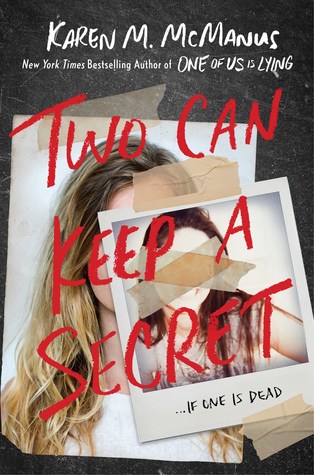 Title/Author: Two Can Keep a Secret by Karen M. McManus
Page Count: 336 Pages
Genre: Young Adult Mystery Thriller
Obtained: Checked out from my local library
Purchase Links: Amazon | B&N | Book Depository | Tattered Cover
GR Summary:Echo Ridge is small-town America. Ellery's never been there, but she's heard all about it. Her aunt went missing there at age seventeen. And only five years ago, a homecoming queen put the town on the map when she was killed. Now Ellery has to move there to live with a grandmother she barely knows. The town is picture-perfect, but it's hiding secrets. And before school even begins for Ellery, someone's declared open season on homecoming, promising to make it as dangerous as it was five years ago. Then, almost as if to prove it, another girl goes missing.

Ellery knows all about secrets. Her mother has them; her grandmother does too. And the longer she's in Echo Ridge, the clearer it becomes that everyone there is hiding something. The thing is, secrets are dangerous–and most people aren't good at keeping them. Which is why in Echo Ridge, it's safest to keep your secrets to yourself.
Character | 8.25 out of 10
Ellery, Ezra, Malcom, and Mia are so much fun. They felt very real and relatable to me and I loved the dual perspective of Ellery and Malcom. I do wish we had been able to see more of the romance aspects from Ellery's POV in order to make it more believable. I love Ellery's true-crime paranoid mind and how she develops from super sleuth to realizing that she's not all that and a bag of cracker jack throughout the story. There wasn't a ton of development for the side characters other than Malcom's brother and I feel like that would have made the story even stronger. Especially because Ezra and Mia were so much fun on the page
Atmosphere | 6.5 out of 10
Echo Ridge is one of those quaint little towns that could be anywhere. McManus does a brilliant job describing the gruesome pranks and ramping up the intensity of different situations, I felt that the setting was a little too generic. There just wasn't a lot of description about the town as a whole and the few that we got were really well done. The overall atmosphere with the creep & stress factors from Ellery's paranoia and murder theories were really strong. In my opinion, they just would have been that much stronger with a bit more description of the settings.
Writing Style | 7 out of 10
McManus has a really fun, almost snarky writing style that I am 100% all over. I've already added ONE OF US IS LYING to my TBR pile because of it. It was a very intense and fast paced read and I was on the edge of my seat for at least 75-80% of it. You know how some YA novels just do not read like the characters are teenagers? This book doesn't have that problem which was incredibly refreshing.
Plot Progression | 8 out of 10
I'm not gonna lie, this plot is very standard for any horror or mystery/thriller media. BUT the execution of it was brilliantly done. Ellery & Malcolm are extremely unreliable narrators due to their history with either past victims or accused murderers. Ellery also has this almost borderline creepy obsession with true crime and she sees connections everywhere or has a theory about everything and everyone. Though, to be fair, she wasn't ENTIRELY wrong about everything…
Intrigue | 8 out of 10
This book was a bit of a slow start for me but after the first 25-30 pages, I was hooked. I was incredibly engaged throughout the story and was even coming up with my own theories as Ellery came up with hers. I REALLY wanted to figure out who the murder was and was a little (read: extremely) salty that I didn't figure it out by the time of the big reveal. The reveal was a little upsetting just because I felt that it came out of left field. There were so many red herrings in this novel that would have made for an EXCELLENT reason for certain characters to be the culprit. But none of them were utilized which made me a little mad. However, I will say that it was a natural ending because it's not always who you expect it to be…
Logic | 9 out of 10
Even though TWO CAN KEEP A SECRET didn't always go as in-depth as I would have preferred, especially at the end, the book was incredibly realistic for a YA thriller. I definitely didn't agree with some of the school's decisions (I mean who the heck keeps an event going when a student is missing and two more have targets on their backs?) but even the characters in the story called that out on being illogical behavior.
Enjoyment | 7.75 out of 10
Overall, this was a really fun thriller and I would definitely recommend it to anyone who loves YA and wants a quick, fast-paced read. It's not super crazy with the plot twists or gruesome content and if you're just looking for a lighter mystery/thriller this is definitely one to try!
Total Score: 54.5 / 7 = 7.79
Star Rating:
4

out of 5 Stars